Border Digital Ltd. is a South Coast based large format digital print company established in 1999. We cover all aspects of digital printing and pride ourselves on our exceptional digital print quality, attention to fine detail and dedication to the highest quality customer service.
Our services include all of the categories above and much more. Please contact us for further details and information about these and other services.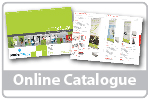 To see more examples of our products and accessories, view our online catalogue.